BERRIEN SPRINGS, Mich.: Long-time admirers and first-time readers of Ellen G. White's Steps to Christ will get an innovative look at a hallmark of Adventist literature in an elegant new makeover, according to Andrews University Press. The "Inspirational Classics Annotated Anniversary Edition" of the iconic work will hit Adventist Book Centers and online retailers in mid-February. The new Andrews edition was officially unveiled and launched during the recognition assembly at the Theological Seminary's annual Scholarly Research Symposium on Feb. 7, 2017.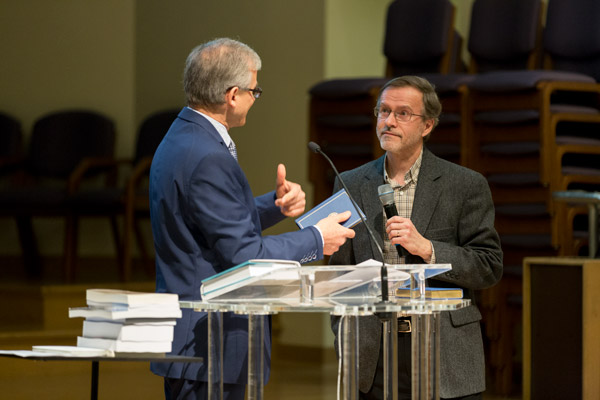 The groundbreaking edition has been published to coincide with two important anniversaries in the Christian world — 2017 marks the 125th anniversary of the original publication of this short work on Christian spirituality, one of the most widely translated and influential Christian devotional classics. This year also marks the 500th anniversary of the flashpoint of Martin Luther's unintended launch of the Protestant Reformation.
"Steps to Christ is recognized to be Adventism's most significant summary contribution to the great theme of 'righteousness by faith' that was the theological cornerstone of the Reformation," said Denis Fortin, editor of Andrews' new annotated edition and former dean of the Seventh-day Adventist Theological Seminary. "It's so appropriate that in this anniversary year, we remind ourselves of the true essence of the Christian faith as presented in this profound little book."
In fact, millions of Adventists around the world are doing just that, as part of a church-wide anniversary effort to engage membership with the message of the book. Last fall, at the annual meeting of Adventist leaders in Maryland, the Ellen G. White Estate launched "125 Years of Steps to Christ" to encourage a massive movement to study and distribute the book. The campaign calls for members, after reading of the book, to organize weeks of prayer, small group discussion, and evangelistic programs organized around the themes of the book.
"That's why we published this special edition—to correspond with and support the Adventist Church's worldwide effort to re-engage with the book," said Andrea Luxton, president of Andrews University and chair of the Andrews University Press Board. "And we expect that thousands of readers will do their reading from this new 'Inspirational Classics Annotated Anniversary Edition.'"
This past fall church leaders also called for members to share personal testimonies about the impact of Steps to Christ on readers' lives. Such a testimony comes easily for Fortin, who was also co-editor of the monumental The Ellen G. White Encyclopedia, published by the Review and Herald Publishing Association in 2013. In his preface to the Andrews edition, he describes his first interaction with Steps to Christ when he was a shy, nominally Catholic 16-year-old in Quebec City.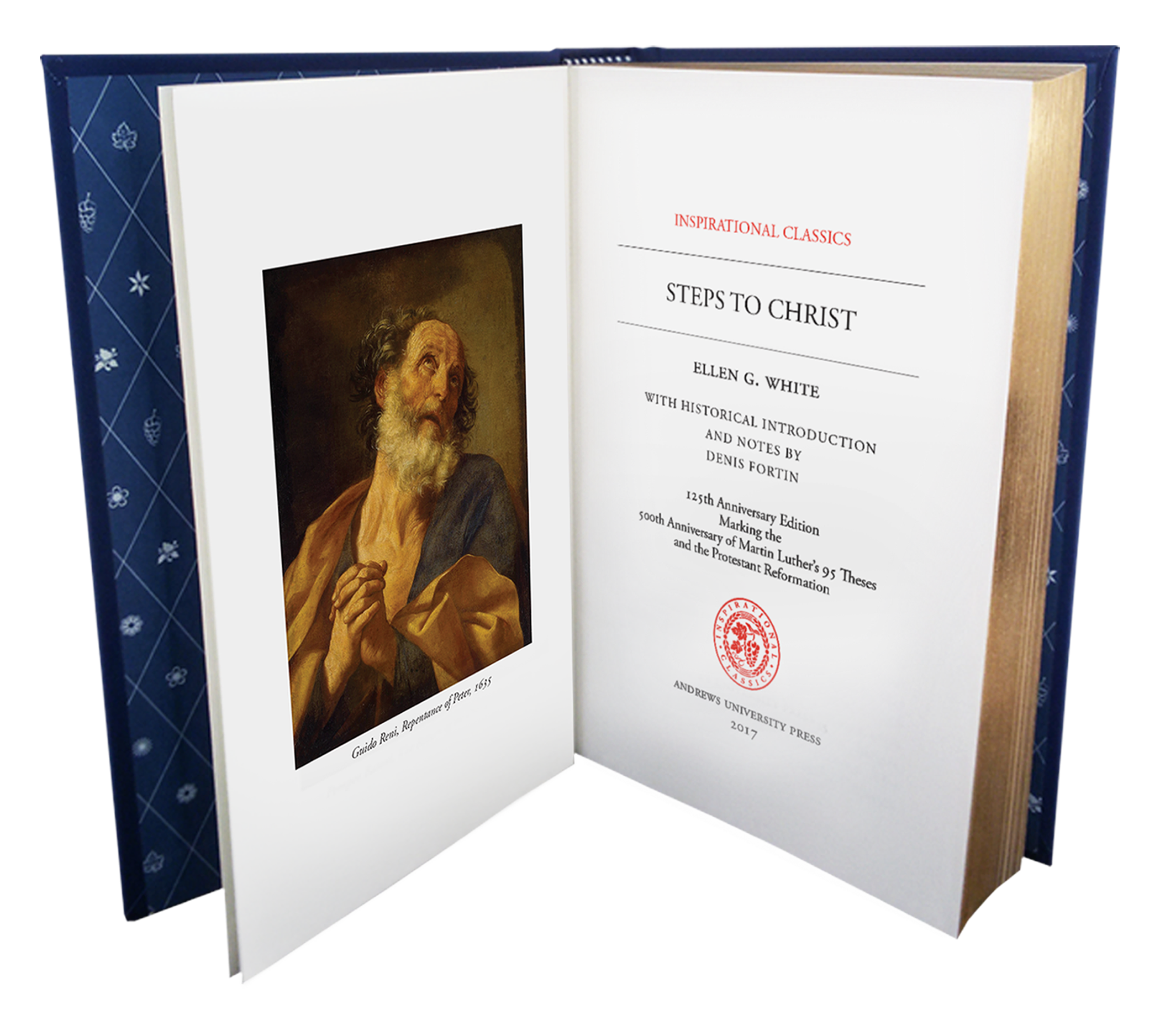 "I had been listening to a radio broadcast called 'It is Written,' and requested a set of Bible studies. A representative of the broadcast stopped by my house and gave me a copy of the Vers Jésus, the French edition of Steps to Christ," said Fortin. "That is the first Adventist book I read, and it was the beginning of a spiritual journey that has continued for 40 years!"
Fortin said that he has read the book many times since, and thousands of times has prayed the well-known daily prayer suggested on page 70: "Take me, O Lord, as wholly Thine. I lay all my plans at Thy feet. Use me today in Thy service. Abide with me, and let all my work be wrought in Thee."
During the special Feb. 7 assembly, Jiří Moskala, who is Fortin's immediate successor as dean at the seminary, interviewed Fortin and honored him for his achievement. Moskala, a well-known Old Testament scholar originally from the Czech Republic, paid his own tribute to White's book when he told the packed audience in the seminary chapel that Steps to Christ is the only book that he has read in four different languages.
The uniqueness of Andrews' new edition is provided by the rich scholarly contribution that Fortin has made in helping serious readers understand more about the development and theology of White's original work, according to Ronald Knott, director of Andrews University Press. Among many other things, Fortin tells the sometimes forgotten story of how Adventist pastors and church leaders in the early 1890s suggested to Ellen White that she work with her editorial assistants to compile a book on Christian conversion from her previously published writings. More importantly, Fortin's analysis gives a reader-friendly overview of the great theological issues at stake in a biblical understanding of righteousness by faith.
"That's why it's called an 'annotated edition,' Knott said. "Fortin's expertise brings so much to an understanding of the book. And that's part of what we mean when we say, 'Read it like you never have before.'"
He said the book contains an extensive historical and theological introduction, as well as short introductions to each chapter. There are also helpful annotations throughout, scripture references, and a new appendix cross-referencing other Ellen White writings.
"This is probably the 'fattest' edition of Steps to Christ ever published," Knott said. "The standard editions are usually about 135 pages. This one logs in at 378. That's for two reasons: first, because of all this helpful, highly informative material that Dr. Fortin has provided from his long years of expertise as an Adventist theologian and Ellen White scholar; and second, because of the physical dimensions and manufacture of the book."
Knott said this new edition conforms to the classic understandings of good book design. It is a small, hand-sized edition, with a sturdy cloth-type hard cover, and with foil stamping and gilded edging. Because of the smaller, easy-to-handle page size, and readable typeface, the book is necessarily thicker. He said that the original pagination of the standard edition that Adventists have known for decades is carefully indicated throughout the work. "This is an edition that will make anyone proud to share it, and anyone honored to received it," Knott continued. "So often, when sharing Steps to Christ, we turn to mass produced, cheap paperback editions. And there has been a place for those. Yet we send a message about our own value of a book's content in the appearance of the book itself."
The format of this anniversary edition matches that of the Inspirational Classics "professional gift edition" of Christ's Object Lessons that Andrews University Press released in 2015. "We naturally think of these two editions of these classic Ellen G. White books as a matched set, and expect many Adventists will appreciate having them in that way, both for themselves, and for sharing with friends outside our faith community," Knott said.
Both books are available now, separately or together, from Adventist Book Centers (1-800-765-6955) and Andrews University Press (1-800-467-6369; or online); and will be a prominent feature at camp meeting sales throughout 2017. Andrews University Press publishes academic and professional books that make important contributions in their respective disciplines and to the mission and purpose of Andrews University.