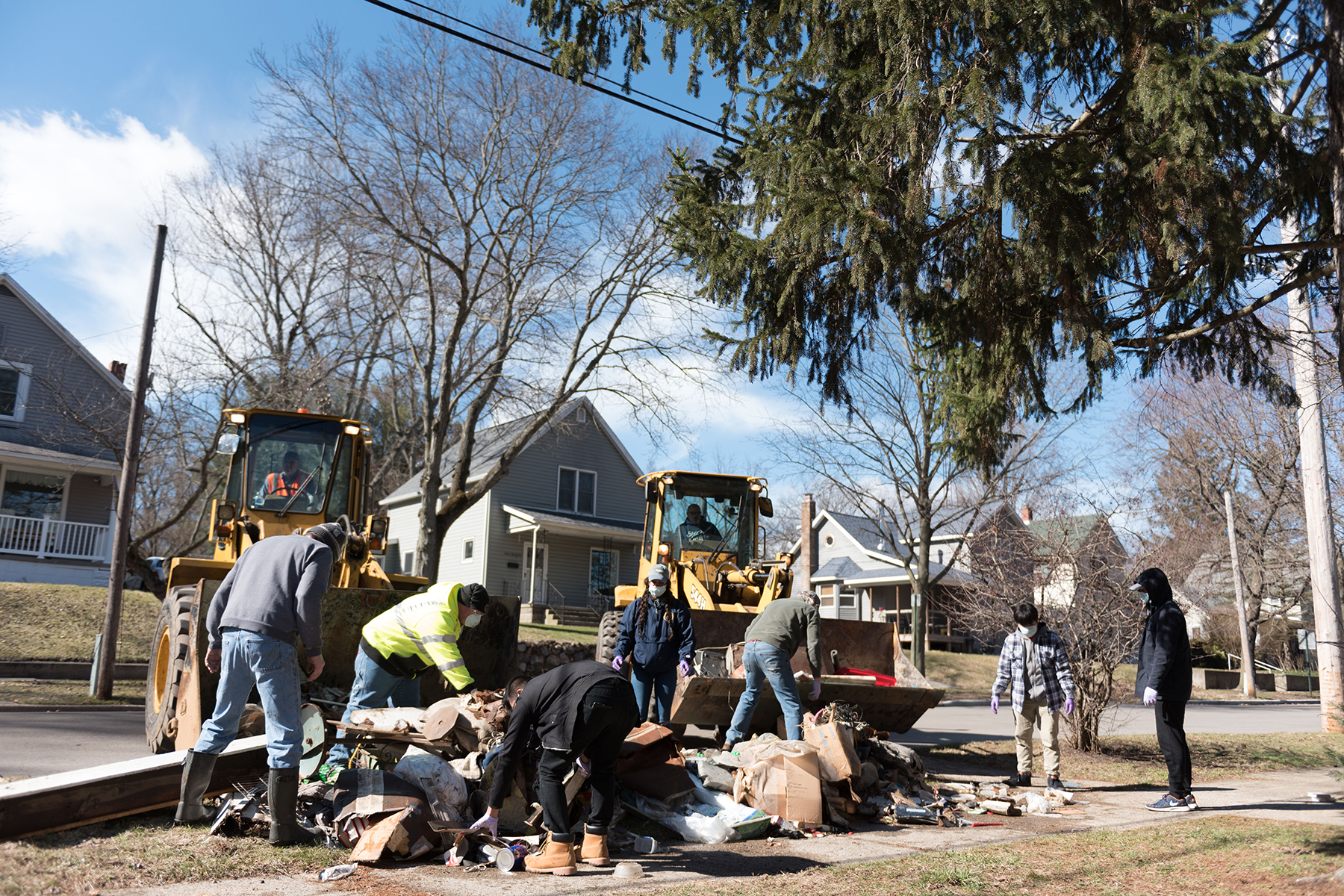 Andrews University students and staff assisted with the housing and cleaning needs of residents displaced by recent major flooding, which began Feb. 20 in Berrien County, Michigan. Over a three-day period, the combination of melting snow and heavy rainfall caused the St. Joseph River in the city of Niles to rise two feet over the river's flood level.
In response, Andrews University's Guest Services and University Towers began housing flood victims on Feb. 22. Temporary housing was provided for two staff members, four community families, and five students. Long-term housing was arranged for three students whose apartments and homes were destroyed. Meal tickets and boxed breakfasts were provided to the displaced residents in the following days. Care packages were assembled and given to students who lost many possessions.
Andrews' Guest Services also provided showers for affected families staying at the Red Cross shelter operating in the Village Seventh-day Adventist Church.
Teela Ruehle, associate dean and associate director of Guest and Convention Services at University Towers, helped coordinate the university's response to the community.
"For me it was a beautiful experience to see the whole community—Andrews, Village officials, police, churches and schools—working together to help our neighbors during a time of crisis," said Ruehle. "This is what God called us to do! And it was awesome to be a part of serving our community and seeing how many students were willing to come out and help!"
In addition to offering services on campus, Andrews University students and staff participated in community cleanup efforts in both Berrien Springs and Niles. On Feb. 24, Campus Ministries worked with "Neighbor 2 Neighbor" to send 20 volunteers to pack cleanup buckets.
On March 2, nearly 40 Andrews students and employees partnered with the city of Niles to help clean the surrounding area. A group of 50 people also worked with United Way in the River Springs Estates area in Berrien Springs to clean out flooded mobile homes and yards. Teams carried and disposed items that were damaged or ruined by the water.
Around the same time in the River Springs Estates, 15 students and employees from Andrews' School of Education worked with the Red Cross to provide childcare and assist parents as they cleaned their homes.
On March 12, a dozen seminary students, faculty, and staff volunteered in Kephart Lane, Berrien Springs. Out of the area's nine homes, five households experienced flooding inside their homes. The volunteers picked up trash, raked debris from lawns, and sawed and hauled away logs.
"You and your crew have saved us an entire summer of labor," said one of the homeowners. "I can't say enough about the entire team's positive attitude, sense of fun, loving spirit, and hard work. Consider us blessed."
A seminary student volunteer said, "The owner of the house where I was working had been struggling with moving all the trash for two weeks and it seemed like nothing was done. When he saw how fast we cleaned his house he was really thankful, and I could see an expression of relief on his face. I was blessed to see that."
Founded in 1874, Andrews University is the flagship institution of higher education for the Seventh-day Adventist Church, and offers more than 200 areas of study, including advanced degrees. Its main campus is in Berrien Springs, Michigan, but the university also provides instruction at colleges and universities in 19 countries around the world.