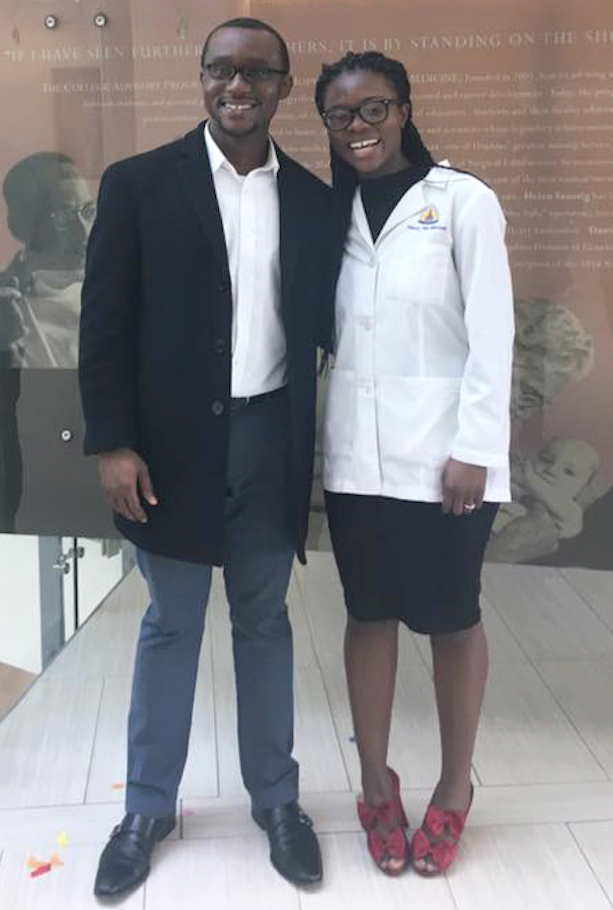 On March 17, shortly after 26-year-old Nancy Abu-Bonsrah, originally from the Ashanti Region in Ghana, received the news that she had been accepted into the residency program at the Johns Hopkins School of Medicine's neurosurgical department, she posted this on Facebook: "What a way to begin the Sabbath! I still haven't processed it yet, but this is such an honor and a privilege to join the department at Hopkins to begin this next phase of my career."
Abu-Bonsrah, a Seventh-day Adventist, is the first black female neurosurgical resident to have been accepted into the Johns Hopkins' program in its history, which spans more than 100 years. According to a CNN report, the prestigious program, ranked second in the country, accepts just two to five residents. Ben Carson, now the United States secretary of Housing and Urban Development, is one of the program's most notable alumni.
The daughter of Seth and Georgina Abu-Bonsrah, she moved with her family to the United States at 15 years old when her father accepted an Inter-Division Employee (IDE) call to work with ADRA as an assistant director for Monitoring and Evaluation at the General Conference (Seventh-day Adventist Church world headquarters) in Silver Spring. Living in Maryland for the past 11 years, Abu-Bonsrah attended Hammond High School and then Mount St. Mary's University where she received a bachelor of science degree in biochemistry and chemistry before joining the Johns Hopkins University School of Medicine program in 2012 to pursue a doctor of medicine. Graduating medical students decide on specialties when they apply for residency. Abu-Bonsrah chose neurosurgery.
In a Johns Hopkins statement, Abu-Bonsrah said, "I am very much interested in providing medical care in underserved settings, specifically surgical care. I hope to be able to go back to Ghana over the course of my career to help in building sustainable surgical infrastructure."
"I am fortunate to have been born in a God-fearing household, one in which we were encouraged to seek the guidance of God in all that we do," said Abu-Bonsrah in an email interview. "I deeply believe that without God paving the way for me and serving as a lamp unto my feet, I would not have made it thus far. My family, my husband, and my church family, the Washington Ghanaian Seventh-day Adventist Church, have likewise been incredibly supportive. They have indeed been the wind beneath my wings and their prayers have continued to sustain me. The Lord has blessed my hard work and I am eternally grateful for His bounty. I hope that I will likewise be a blessing to everyone I come into contact with."
Abu-Bonsrah found out she was slated to begin residency training this summer at Johns Hopkins on March 17, known as "Match Day." On the third Friday of March each year, fourth-year students at medical schools across the U.S. discover where they'll be continuing their professional medical journey. Students are given an envelope that will reveal where they will begin training. The opening of the letter at a set time has been considered a rite of passage since the 1950s for physicians-in-training. A Johns Hopkins release explains that "matches are selected using a computer algorithm that matches the preferences of applicants with the preferences of residency programs in order to fill the available training positions around the United States."
"I will be matching into neurosurgery, a field that I am greatly enamored with, and hope to utilize those skills in advancing global surgical care," said Abu-Bonsrah, who is married to Kwabena Yamoah, a third-year medical student at the University of Maryland.
The young doctor will continue her medical training in a seven-year residency program while at the hospital. In a March 24 Facebook post she wrote, "It has been a whirlwind couple of days . . . we have been sincerely touched by all the support and well wishes! It is indeed an honor and a privilege to have been granted this opportunity to be a part of the Johns Hopkins Neurosurgery Department as a resident, with its rich history of pioneering surgeons."
Abu-Bonsrah added, "It is truly humbling to be a part of such a legacy and to have so many inspired by our story. We are excited for the journey ahead and ask for continued prayers."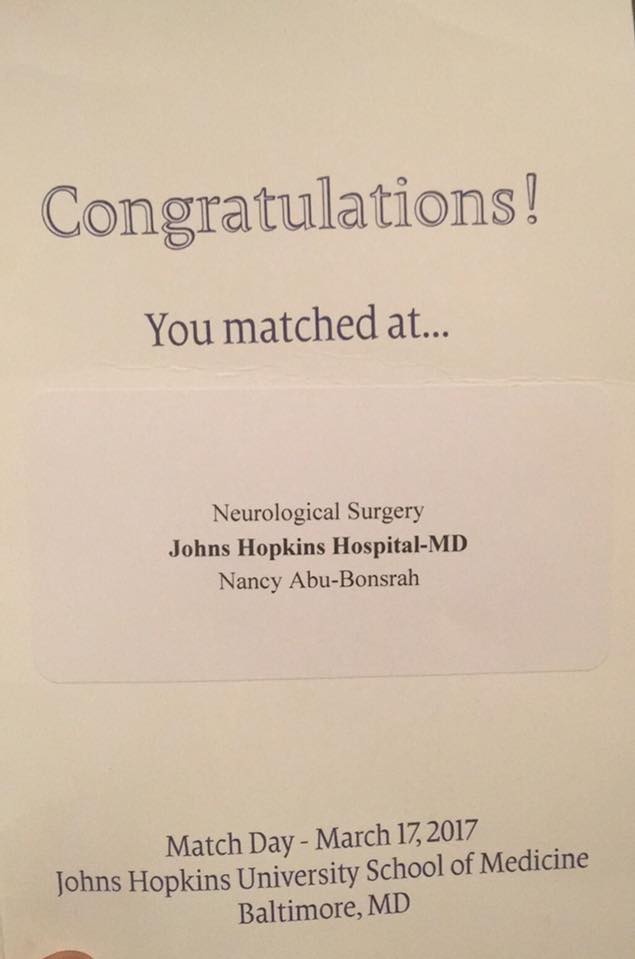 The interest in becoming a physician started early for Abu-Bonsrah. In Ghana, where she completed her middle school education, students were generally encouraged to study certain subjects based on their aptitude once they entered high school. For Abu-Bonsrah, that was the sciences — with the intention of eventually pursuing medicine. "I seized on the advice of my academic mentors and also felt that I would be able to positively contribute to my community by being a physician," said Abu-Bonsrah, whose desire to pursue neurosurgery was borne out of shadowing experiences in Ghana during her junior year winter break from Mount St. Mary's University.
"I had an opportunity to spend some time in the Komfo Anokye Teaching Hospital. It was there that I experienced the uniqueness of neurosurgery as well as the general lack of access to care," explained Abu-Bonsrah. "Not only was I impressed by the surgical skill and fascinated by the anatomy, I was also stunned by how overwhelmed the surgeons were. Ultimately, I felt that this field would help me marry a love for the field with a desire to serve. I cannot wait to go back and serve, not only in Ghana, but in other low resource settings."
Excited for the future, Abu-Bonsrah told Johns Hopkins that she wants to be remembered for "serving my community, whether it is through providing quality surgical care or helping mentor the next generation of surgeons."
Abu-Bonsrah, who has been involved in mentoring through her work at Johns Hopkins, is already an inspiration to some. Young adult Adaeze Okorie posted this comment on Facebook on March 26: "Congratulations, Nancy, on all your hard work paying off! You inspire young African-American girls like me to continue on my premed track despite the setbacks we may face, because someday we can get to where you are. You're truly an inspiration and I pray for many more successes in your life. God Bless!"
According to a Ghana SDA News Facebook Post on March 19, Abu-Bonsrah's friend's tweet (Twitter name Mizpeh) announcing the news received more than 21,000 likes and has been retweeted more than 10,000 times on Twitter in less than two days. As of March 27, that number has grown to 57,000 likes and 23,000 retweets. Ghana SDA news reported that Maame Jane, who knows Abu-Bonsrah from Ghana, said, "She's one of our finest. Very humble."