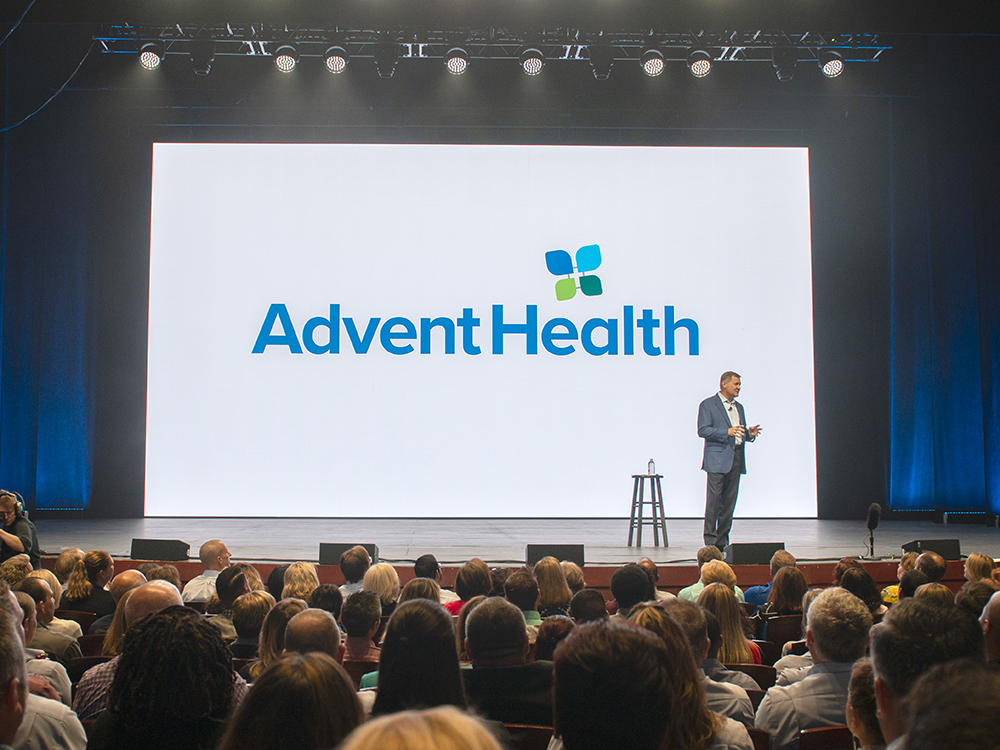 Altamonte Springs-based Adventist Health System (AHS), one of the largest faith-based health care systems in the United States, with nearly 50 hospital campuses and more than 80,000 employees, today announced that it will soon become AdventHealth. With the name change, the health system will move to being one consumer-centric, connected and identifiable national system of care for every stage of life and health.
As part of this transition, all of Adventist Health System's wholly-owned hospitals and hundreds of care sites across its footprint will adopt the AdventHealth name and logo beginning Jan. 2, 2019. The naming structure will allow consumers to more easily distinguish AdventHealth's care locations and services. While its name is changing, the organization is not changing in ownership or business structure.
"We are transforming to be a more consumer-focused health care system to better meet the needs of those we care for and the communities we serve," said Terry Shaw, president/CEO for Adventist Health System. "Becoming AdventHealth allows us to be a fully integrated and distinguishable health system across all aspects of the care continuum, while also speaking to our Christian healing ministry, message of wholeness, and our rich Seventh-day Adventist roots."
The name AdventHealth signals the arrival or beginning of health and expresses a strong and clear connection to the healing and salvation that God has promised. Adventist Health System's promise of wholeness is an expression of the belief that caring for the physical, emotional, and spiritual needs of every person is the key to good health.
"We want our hospitals and care sites to be places where people can experience hope as well as healing, and the AdventHealth name so appropriately expresses that sense of expectation and optimism while also connecting with our promise of wholeness and our rich faith-based heritage," said Gary Thurber, board chairman for AHS.
In preparation for the launch of a systemwide brand, the organization spent eight months focused on deploying consistent culture and service practices to solidify the consumer-centric approach that will inform every interaction and experience that patients have with caregivers and team members across all care settings.
"This is a wonderful and exciting time for the organization. We are united by our mission of 'Extending the Healing Ministry of Christ,' as well as our vision, values and service standards to provide best-in-class, consumer-centric care," said Shaw. "In continuing our tradition of healing and hope, we will work to make an even greater impact and foster abundant life in the communities we serve."
In September, a transition campaign featuring television and print ads will begin in various markets across the country. Changes to signage and visual elements at hospitals and other facilities are expected to take place in January when the AdventHealth name is fully adopted systemwide. Joint venture locations will not change as part of this rebrand.
A Historical Perspective
For more than 150 years, Seventh-Day Adventist caregivers have combined an innovative perspective on whole-person health with the latest medical treatments for curing illness. At the first Adventist health care facility, which opened in 1866 in Battle Creek, Michigan, Adventist practitioners cared for the sick while also teaching good nutrition, exercise, and hygiene that helped members of their communities avoid illness and live healthful lives.
Those beginnings shaped Adventist healthcare and how both church members and practitioners view the world. AHS shared in a letter that went to conferences and pastors that, "Our mission guides us through what we are created to do. As we live in the time between the Garden and our Savior's return, the promise of His Advent, the restoration of wholeness, is what inspires our mission of extending the healing ministry of Christ. Our Seventh-day Adventist heritage of whole health began in 1866 with a bold and radical innovation: sanitariums. They were the first institution to recognize the benefits of clean water, a plant-based diet, sunshine, fresh air, exercise and adequate rest. While many found these things to be frivolous at the time, Adventists were first to pioneer this philosophy with a focus on whole person health modeled after Christ's ministry. The interconnectivity of the mind, body and spirit tells us that treating one dimension of our being but ignoring the others will only lead to failure."
The Future
AHS believes that healthcare systems should stay connected with their patients even after they leave the hospital. "We are making a commitment to those who entrust us with their care to be there every step of the way," stated hospital system administrators. "We are going to stay connected, help them navigate the next steps and encourage them along the way.
"To do this, we must commit to a vision of being wholistic, exceptional, connected, affordable, and viable. This vision is rooted in our Seventh-day Adventist legacy and poised for the future of health care, just as Adventists always have been. Much like the mind, body and soul, we as a health system must be interconnected in a way that consumers can see and feel.
AHS plans to transform the way transform the way we deliver healthcare by developing a closer relationship with their consumers and staying connected to them, as well as improving the quality of care they provide.
As AHS becomes AdventHealth in January 2019, they anticipate that consumers will be able to more readily recognize them across their "wholly-owned hospitals, physician practices, outpatient facilities, and communities. This transformation will allow us to provide a world-class care experience that is comprehensive, connected and easy to navigate," said administrators.
About Adventist Health System
With a sacred mission of extending the Healing Ministry of Christ, Adventist Health System is a connected system of care for every stage of life and health. More than 80,000 skilled and compassionate caregivers in physician practices, hospitals, outpatient clinics, skilled nursing facilities, home health agencies and hospice centers provide individualized, wholistic care. A Christian mission, shared vision, common values, focus on whole-person health and commitment to making communities healthier unify the system's nearly 50 hospital campuses and hundreds of care sites in diverse markets throughout almost a dozen states. Click here for more information about Adventist Health System.