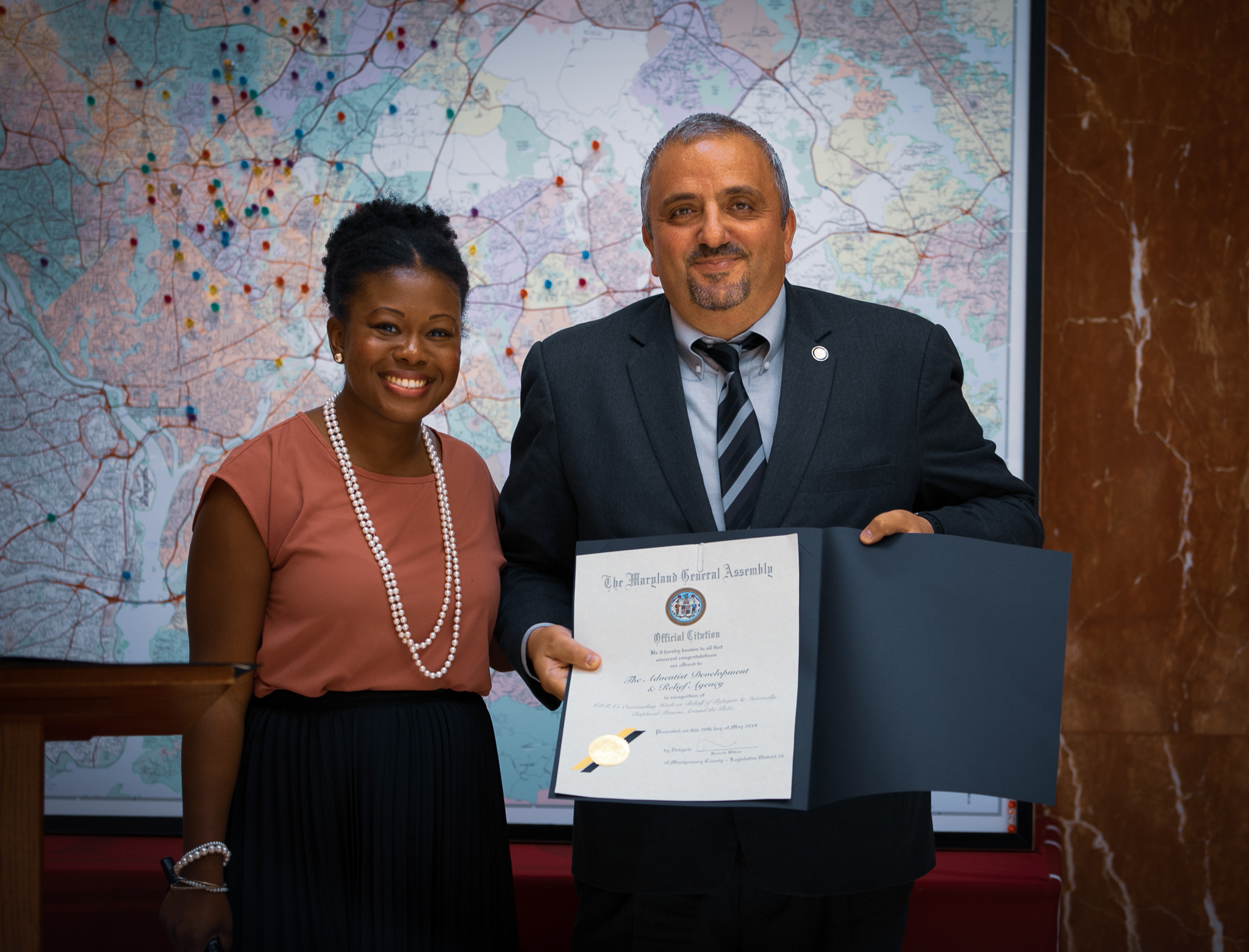 To help raise awareness of the refugee crisis, which involves more than 65 million people worldwide, the Adventist Development and Relief Agency (ADRA) collaborated with Sligo Seventh-day Adventist Church in Takoma Park, Maryland, to co-host an information fair and film screening on May 20.
Approximately 100 people attended the first-of-its kind event for ADRA and Sligo. The shared desire to address the needs of refugees led to the unique partnership between the agency and local church.
Kate Stewart, mayor of Takoma Park, and Jheanelle Wilke, assemblywoman for the state of Maryland, recognized the work of organizations and individuals who welcome refugees to the area and provide assistance around the world.
Wilkins presented ADRA with a state citation commending its work on behalf of refugees and internally displaced people around the world. Wilkens also presented a citation to Sligo church member Hannah Koilpillai for her service with the National Community Church refugee resettlement programs.
"It is very inspiring for ADRA's work supporting refugees to be recognized in this way by the State of Maryland," said Imad Madanat, vice president for programs at ADRA International. "This plaque represents all of ADRA's frontline workers and volunteers who work hard, even in the midst of danger, while demonstrating compassion and following Jesus' example to reach the most vulnerable and marginalized."
Ten humanitarian agencies participated in the community event by providing attendees with resources on how to serve refugees in Maryland and globally.
The agencies included Adventist Community Services (ACS) of Greater Washington, the Ethiopian Community Development Council (ECDC), International Rescue Committee, KindWorks, L.A.C.E.S. (Life and Change Experienced through Sports), Lutheran Social Services of the National Capital Area, National Community Church, NOVA Friends of Refugees, and Sligo church's Refugee Support Ministry.
Guests were encouraged to participate in ADRA's letter writing campaign, donate food for ECDC's refugee thanksgiving, volunteer as a coach for refugee kids through L.A.C.E.S., or foster unaccompanied refugee youth through Lutheran Social Services of the National Capital Area, among other programs offered through represented organizations.
The event ended with a screening of the documentary film, "Human Flow," which captures the perilous journey of refugee individuals and families over the course of a year. The film takes viewers through 23 countries, including Bangladesh, France, Kenya, Mexico, and Turkey. Through "Human Flow," viewers witnessed the courage it takes to cross into the unknown, and the refugees' desperate search for safety, shelter, and justice.
Attendees were also treated to baklava - a Greek and Middle Eastern pastry containing nuts and honey, and falafels -  made by a Syrian refugee who operates a catering company in Maryland.
ADRA is currently providing aid with food, shelter, and hygiene kits in 39 countries to refugees who were forced to cross country borders under threat of persecution, conflict, and violence.
You and your local church can also support refugees by joining the Seventh-day Adventist Church and ADRA in recognizing World Refugee Sabbath on June 16. Learn more by visiting adra.org/refugees.
--
The Adventist Development and Relief Agency is the humanitarian arm of the Seventh-day Adventist Church. ADRA works in more than 130 countries through projects based on livelihood and agriculture, water and hygiene, community health, economic growth, gender-equality, social justice, and food security.