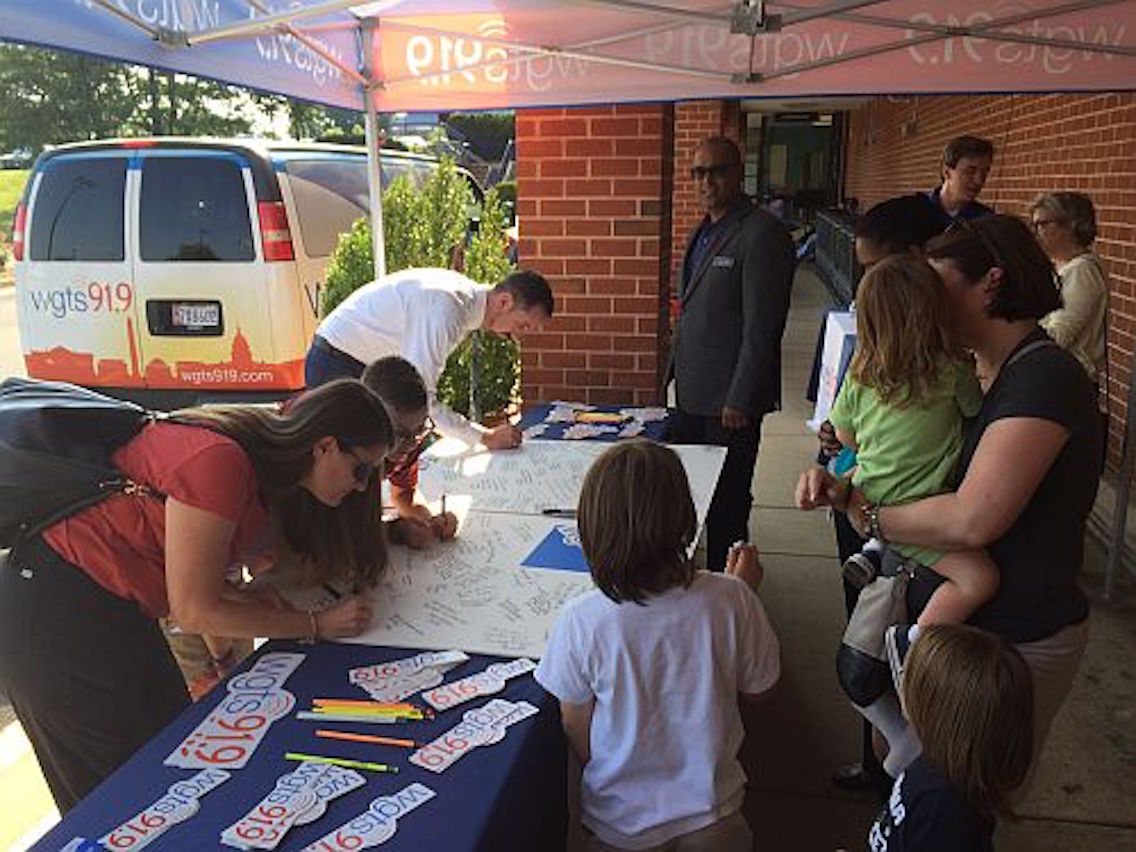 After the June 14, 2017, shooting at a congressional baseball practice, WGTS 91.9 listeners signed a gigantic "Thank You' card in a show of support for the U.S. Capitol Police department and the special agents who prevented mass casualties. The card, created by the station, reads, "The WGTS 91.9 Family is Praying for You." On Thursday and Friday, hundreds of listeners went out of their way to come to Alexandria, Virginia, and Upper Marlboro, Maryland, to share messages of thanks and appreciation for the police department.
Hundreds of people came to sign at the two locations; and WGTS ended up delivering two large cards to the U.S. Capitol Police headquarters on June 23. Both the U.S.C.P. chief of police and public information officer thanked WGTS on-air personalities Johnny and Stacey [Stone] for the kind gesture, sharing their appreciation for the cards.
"Whenever something tragic happens, it's easy for us to feel helpless. WGTS is blessed to be in a unique position to provide a platform where our community can show how grateful they are for our police officers. I think that's why listeners responded so powerfully to the invitation to show their support for the U.S. Capitol Police," said general manager Kevin Krueger.
"My wife Stacey and I feel that the police deserve recognition for what they do every day," says Stone. "Following the bravery of the U.S. Capitol Police saving so many lives, we wanted to let them know that the WGTS family is praying for them ao we created the cards (two because the first filled so fast) to show our support."
On June 14, a group of Republican lawmakers were practicing in a quiet Alexandria neighborhood for the annual congressional baseball charity game when a lone gunman attacked those gathered on the field. Five people were injured, including House Majority Whip Steve Scalise. U.S.C.P. special agents Crystal Griner and David Bailey were both hurt while defending the congressman and other guests at the practice. Griner spent several days in the hospital recovering from a gunshot wound. Scalise, as of June 30, was still hospitalized after being shot through the hip and undergoing several surgeries.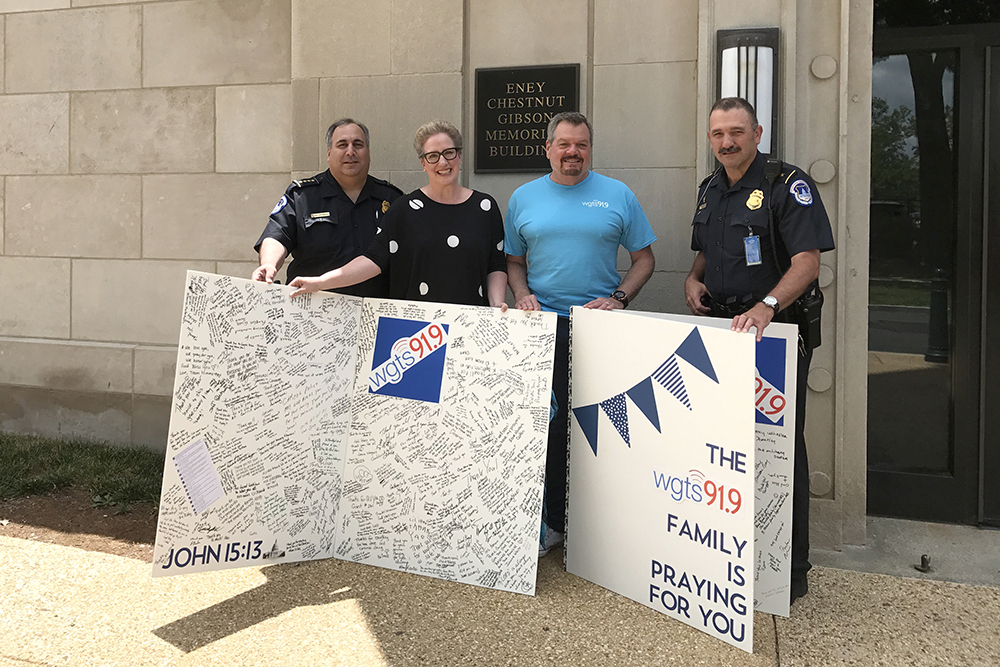 One WGTS listener named Laura said the shooting happened in her neighborhood. She said she was looking for a way to show support and this was the perfect opportunity to do it.
WGTS works to bring the community together through its "Hands and Heart Initiative," which seeks to connect people with each other to impact their local cities. This card was part of that ongoing community outreach.
— WGTS 91.9 FM is a Christian radio station on the campus of Washington Adventist University in Takoma Park, Maryland; Kimberly Luste Maran contributed to this report.