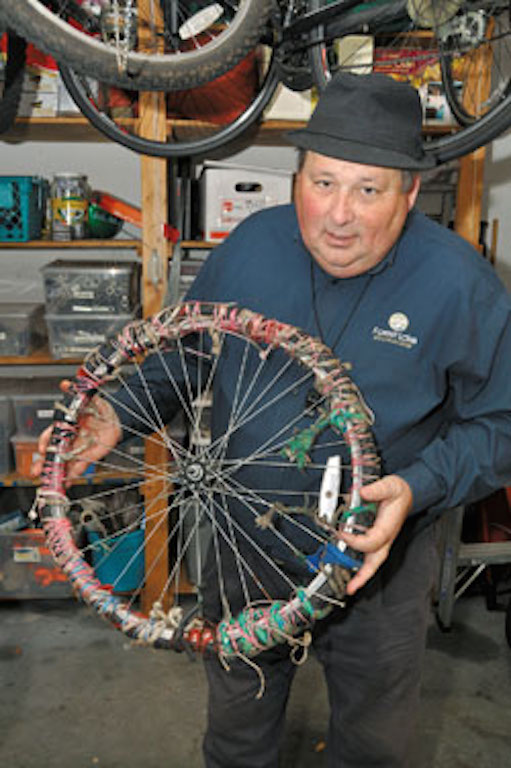 Thus began a three-minute video from Florida Hospital's annual celebration of Thanksgiving which acknowledged Durham for his humanitarian work.
For more than eight years, Durham, a full-time music teacher at Forest Lake Education Center in Longwood, has given new life to worn out and broken down bicycles. After completely refurbishing them, he gives the bikes to men at Central Florida Coalition for the Homeless in Orlando.
Getting to a job is very difficult for a homeless person, because even monthly bus fare is expensive. "If it wasn't for Mr. Russ, the bike man, I wouldn't have had a bike," says Jesse, "and I really thank him for that." When Durham first met Jesse, he was sleeping on an old mat on a hard concrete floor at the shelter. Now, he not only has a job, but has his own apartment.
Durham also started a repair day at the shelter once each quarter which rapidly grew with a need for five or six good repairmen and their assistants to help him. Two area pastors, Ron Torkleson of Markham Woods and Delwin Finch of Forest Lake, regularly bring their tools and bike stands to join in making repairs.
The repairmen use speed wrenches in their work as "every second counts," says Durham, "when there are 50 guys in line waiting to get their bikes fixed. Some of them are there waiting all day. Most of them are very patient, and they're so grateful that somebody's doing this for free."
On the very first repair day, a man showed up with a flat front tire. Since he didn't have the money to buy a tube for the tire, he had improvised. With string and old rags, he tried to tie the tire to the rim.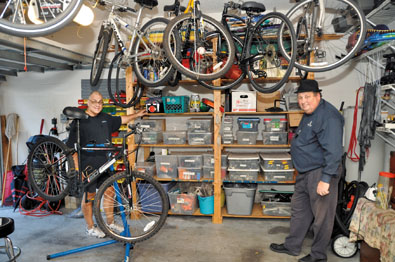 "This is kind of like when we try to work out our own salvation," says Durham. "Jesus said 'our righteousness is like filthy rags.' We have only the blood of Jesus that can cleanse, and only the blood of Jesus can lead and renew."
Improvisation becomes a way of life to a homeless person. Most of the bikes needing repair have unsafe brakes. Each bike is restored with a brand-new brake package to prevent accidents.
"It is a unique ministry," says Durham. "For every bike I fix, there is someone else who needs one. I just get a lot of joy out of helping people and filling a need. Seeing the smile on their faces is reward enough for me."
"We are thrilled that this distinctive service can be offered to the clients staying in our Men's Pavilion and hope that Russell's story of tune-ups for a cause will inspire our community to discover how they can use their own area of interest to serve others." —Coalition for the Homeless of Central Florida
From  Florida Focus, Autumn/Winter 2015.