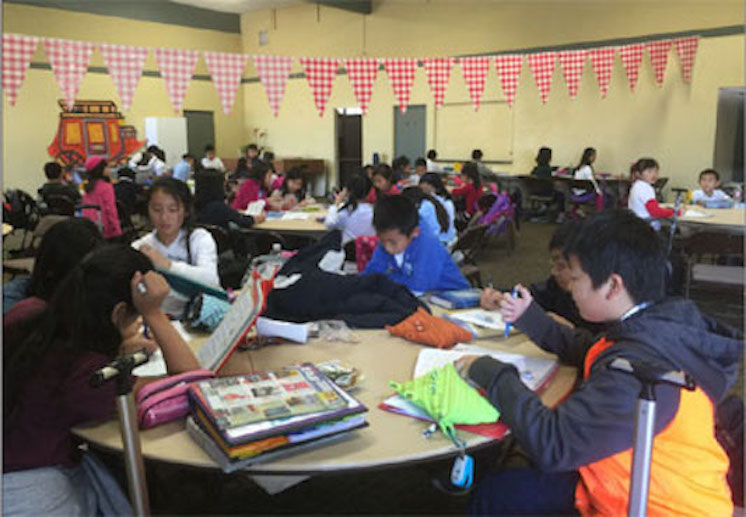 "The Alhambra church is in a community that has become known as the 'Gateway to America,'" said Donald Smith, the church's senior pastor, "since many Asian immigrants, especially those from China and Taiwan, have moved into the area in recent years. Street signs, business marquees and political material are bilingual, in Chinese and English. The majority demographic of our community now is Asian and Chinese," added Smith, "a reality also among the membership of the congregation."
A major concern for many of these new immigrants is for their children to not lose their Chinese heritage and language as they become immersed in the American-English culture and school system. To respond to this concern, the church launched the "Chinese Heritage Club for Kids" in the fall of 2015. This new ministry, under the direction of Diana Chao, provides elementary afterschool care, which includes instruction in Chinese and exposure to Chinese music, history and culture, along with helping each child complete his or her homework. Each afternoon, students are given a Bible verse to memorize and translate into Chinese.
"The Alhambra church allows kids to grow and learn in a safe environment," said Chao, "while improving in their field of study under the care and protection of family, teachers and friends. The kids are able to learn here with the protection of Jesus' love."
Meeting weekday afternoons from 2 to 6 p.m., the ministry has plans to operate a full-day summer camp. Fifty-three elementary-age children are currently participating in the school. The church anticipates even more children attending during the summer. According to Smith, the program is self-sustaining and growing through student fees. The church leases a bus on which teachers ride to area public schools to pick up students each afternoon. Parents pick them up at the end of the day after their work.
"This program gives us the opportunity to encourage and help the local children with their homework," noted staff member Tiffany Truong. "I personally enjoy how interactive the staff is toward the students. We try to motivate the kids in the best possible way."
"This program helps children improve in academics as well as in their behavior," Rina Tim pointed out. "The children learn to appreciate and respect one another. They also learn to manage their time and work hard. Our program teaches children to learn about different cultures and follow traditional values."
"The Chinese Heritage Club is quite an amazing place," said student Maylene Vong. "It gives us enough time to finish our homework, helps us learn about our Chinese culture and have a fun time."
Kelly Woo agreed: "The program is an excellent place to master the Chinese language, where you get new friends, get help with your homework; and it has great teachers."
"Chinese Heritage Club is where my inspiration comes from," affirmed Valerie Ng. "You can have a great time while learning."
On Friday afternoons, Smith conducts a chapel service for the children and staff. Ralph Siordia, Alhambra's children's ministry director, is planning a new puppet ministry as part of the church's ministry to the school children. By utilizing the church facilities for Chinese cultural events through the ministry, church leaders hope to reach an expanding network in Alhambra's Chinese community. The staff and children already have participated in the church's annual Christmas special, and the ministry has become a vital avenue for other church-sponsored initiatives.