The Bermuda Conference held the Good News Gospel Explosion evangelistic meetings from April 8-29, 2017, with evangelist Claudius Morgan, assistant to the president for communication, with responsibilities for evangelism, for the Caribbean Union Conference in Maraval, Trinidad. Under the auspices of the Holy Spirit, Morgan shared the Word of God.
A total of 88 people were baptized as a result of the evangelistic meetings: 47 baptisms and 41 rebaptisms. Baptisms were held on April 8 and 15, and then nightly, including the final Sabbath and Saturday night, April 29. Baptismal candidates were presented with folders containing information about membership in the Seventh-day Adventist Church. A group picture of all newly- baptized members was taken, along with individual pictures to be formed into a photo album of new members.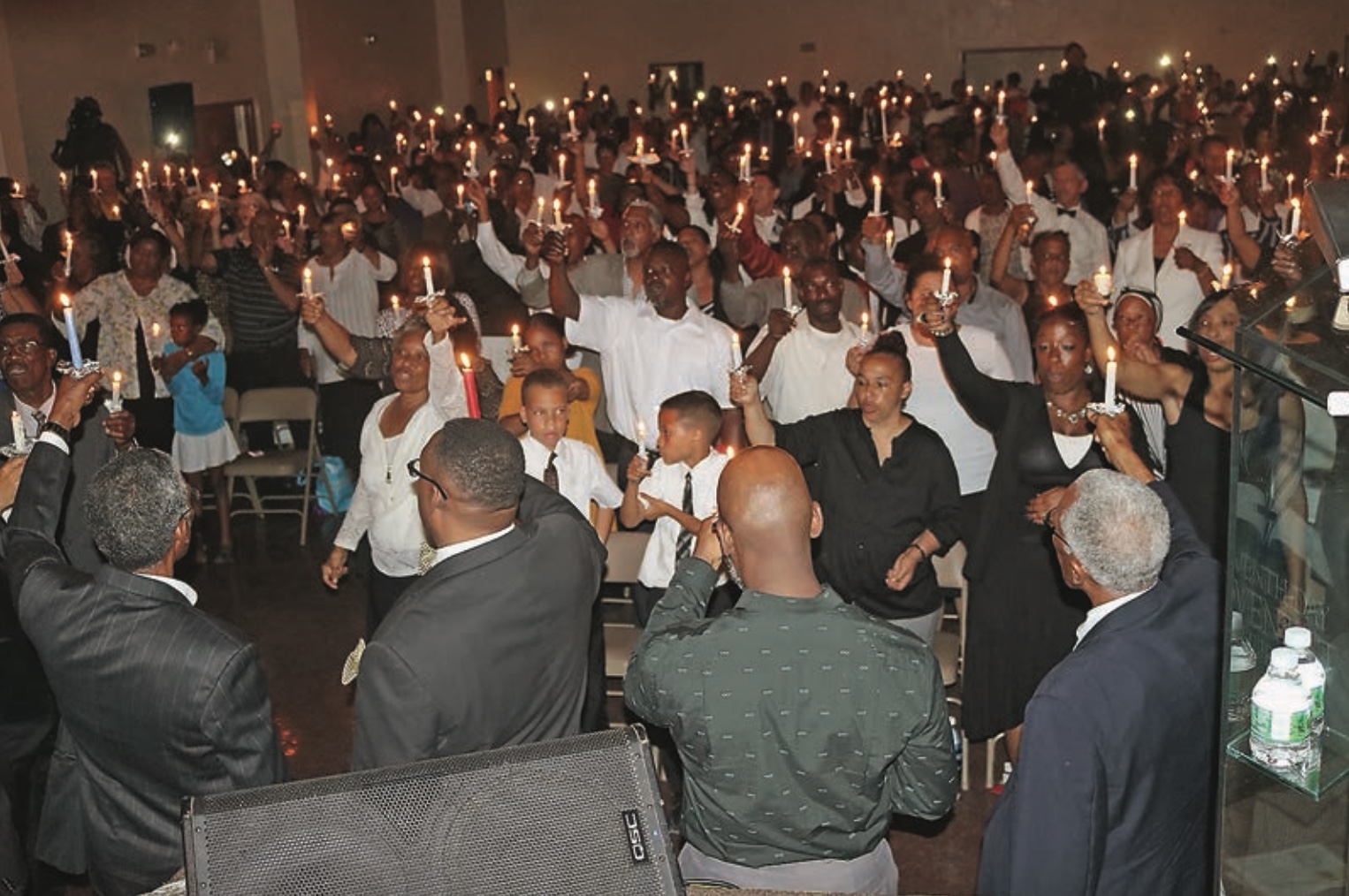 With a Caribbean flavor, Morgan introduced the attendees to his theme song, "I Don't Want to Be Left Out," as the program began each night.
And as the Spirit of God directed, Morgan decisively shared God's Word. His own testimony inspired those in attendance. He had been making his living as a Calypso singer when God stepped into his life. "I wasn't ready for God, but God was ready for me," Morgan said.
With no education, God sent him to school, taking him from nothing to becoming an effective and powerful evangelist in the Seventh-day Adventist Church. Now Morgan travels throughout the world, sharing messages that point people to Jesus, the Lamb of God.
Each evening of the Good News Gospel Explosion evangelistic meetings, Lee Gibbons, Bermuda Conference Health Ministries director, shared health information on illnesses that plague the body and how to use simple remedies to cure them. Many expressed gratitude for the information supplied from night to night.
At the culmination of the meetings, a candlelight service was held. Attendees sang the words to the song, "Go Light Your World" while the lights around the auditorium were turned off. The candlelight service was the highlight of the evening with glowing candles throughout the darkened hall. Attendees were encouraged, as the song says, to take their candle, and go light their world.
—D. Randolph Wilson, communication director, Bermuda Conference; this article originally appeared in the June 2017 Atlantic Union Gleaner.